Upcoming events:

---
worcester stacks up in the news:

News From the Perkins Library and the Worcester Talking Book Library
Dots & Decibels, Summer 2014 Issue
Worcester Stacks Up Now Available in Audio Version
Did you know that the baseball player who hit the first home run in Fenway Park was a Worcester resident? That Stanley Kunitz, who wrote poems about his boyhood in Worcester, won the Pulitzer Prize for
Selected Poems, 1928-1958
and in 2000 was named the United States Poet Laureate? Or that Nicholas Gage is famous for his two autobiographical memoirs,
Eleni
(DB 19947)
and
A Place for Us
(RC 32487)
, which describe his immigrant experience in Worcester following his escape from his family's communist-occupied Greek village?
Worcester Stacks Up: Firsts and Fun Facts (DBM 1350)
by legally blind author CJ Posk is an easy-to-read, illustrated walk through some of the well-known and lesser-known facts of Worcester's history. Posk has created a written and visual tribute to the many contributions Worcester has made to the country and the world.
Carolyn "CJ" Posk was born and brought up in Worcester, where she attended North High. She lived several years in Denver, where she helped start the National Association for Pseudoxanthoma (a connective tissue disorder). Upon returning, she renewed her love for her native city and became a strong advocate of Worcester, where she is involved with various groups and organizations, including the Worcester Talking Book Library Consumer Advisory Council, the Worcester Women's History Project, and Volunteers of America.
Determined that young people should know about Worcester 's rich history, Posk has written
Worcester Stacks Up
, hoping it will spark curiosity, interest, and a strong appreciation for New England 's second largest city.
A special accessibility feature was added to the audio and braille versions of
Worcester Stacks Up
, because the print book is filled with hundreds of icons, photographs, and drawings with short text accompanying each image. Perkins asked an experienced audio describer, Jan Stankus, who writes description for WGBH and live theater, to write the description for all of the images in the book . Here is an example of an image description:
Description:
A likeness of Abby Kelley Foster, a woman with smooth coiffed hair, appears next to interior and exterior views of a large meeting hall.
Print copies of
Worcester Stacks Up
are available for purchase at the Worcester Public Library bookstore, Worcester Historical Museum, Worcester Art Museum, Annie's Book Stop, and Tatnuck Bookseller. To order
Worcester Stacks Up
on digital cartridge, request DBM 1350, or BRM 1557 for the braille version.
---
Coffee with Konnie
February 2014
---
Vitality Magazine
June 2013

---
Worcester Telegram & Gazette
March 2013

Author reveals how 'Worcester Stacks Up' BOOK LOOKS AT FIRSTS AND FUN FACTS
By Pamela H. Sacks CORRESPONDENT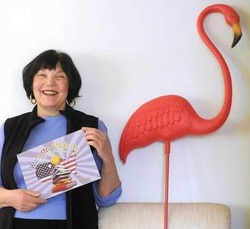 CJ Posk is pictured in her home with a copy of her book, "Worcester Stacks Up: Firsts and Fun Facts," and a pink flamingo lawn ornament. The lawn ornaments were designed by Don Featherstone, a graduate of the Worcester Art Museum School, for Union Products in Leominster. (T&G Staff/TOM RETTIG)

Friday, March 22, 2013

CJ Posk remembers a time when she took the bus to her dance lessons in bustling downtown Worcester. While attending North High School, she worked part time at several busy retailers along Main Street.

After college, marriage, children and a series of jobs, Posk decided to make a change. She moved to Colorado and stayed for a number of years before returning home in 1999 to a metropolis she had come to think of as very different from the Worcester of her youth.

"I thought of the city as gray," said Posk, now 70.

As time went on, Posk's view of Worcester brightened, and she has now added her own splash of color to her hometown. Her lively and informative new book, "Worcester Stacks Up: Firsts and Fun Facts" (Lakshmi Books, $19.95), recalls important moments in the city's history using an approach likely to appeal to children and adults alike.

"There were many firsts in Worcester," Posk said in a recent interview. "I'd ask people about Worcester and find they knew very little. So the book had to include history. I thought our students and adults should know it."

"Worcester Stacks Up" is filled with photos, graphics, drawings and all sorts of factoids, some familiar and others obscure. Each one has been verified twice; the text is written in a straightforward, clear style.

The book has two sections. The first is composed of 10 chapters, each covering a facet of life in which Worcester blazed a trail. A few tidbits: Dr. Paul Siple, an Antarctic explorer and geographer who received his doctorate from Clark University, came up with the meteorological term "wind chill factor." The first public reading of the Declaration of Independence occurred at City Hall. The first packaged rice pilaf and pizza were Worcester creations.

The second section includes 50 intriguing questions and their answers. For example: "He was a famous author, statesman, scientist, musician, inventor and printer who, on a visit to Worcester, helped fix the press of Isaiah Thomas at the Massachusetts Spy. Do you know who this famous patriot was?" (The repairman, it turns out, was Benjamin Franklin.)

Posk has brought her project to fruition despite suffering from a disease known as PXE, or pseudoxanthoma elasticum, which has left her legally blind. Her condition prompted her to return home. Soon, she became involved with several civic and cultural organizations. She met the late Norma Feingold, who regularly expressed her love of Worcester. Posk was skeptical, yet Feingold continued to urge her to write a book for children about the city.

Posk, meanwhile, had a reader, Elaine Pajka, who spent time with her every Monday. As Posk discovered that Worcester had been the site of numerous inventions and critical historical moments, she warmed to the idea of a book.

"I'd be on the computer and Elaine would read," Posk recalled. "We started writing down all the things that came first in Worcester."

Posk brought a wide range of experience to her project. Before moving west, she had attended the Salter School and Quinsigamond Community College. She worked in business management and floral design.

When she divorced, she and her son, who was 16 at the time, moved to Golden, Colo., while her daughter remained in the East to attend college. Posk said she worked as a model and took small parts in the "Perry Mason" TV series, which was being filmed in nearby Denver.

Then Posk was diagnosed with PXE. As she pursued treatment in this country and abroad, she became involved in creating a chapter of the National Association for Pseudoxanthoma Elasticum, a nonprofit support group for patients and their families. Her main interest still lies in that work, she said.

Posk is quick to credit all those who helped her over the three years she worked on "Worcester Stacks Up." She started out with two interns from Clark University who verified the lists of "firsts" she had compiled. "Some of the things I read, some things that claimed to be firsts, were not," she noted.

Reference librarians at the city's colleges and universities assisted her, as did staff members at the American Antiquarian Society, Preservation Worcester, the Worcester Art Museum and the Worcester Historical Museum. She turned to the David Clark Company for help with space travel. She collaborated with commercial artist JohnPaul Raymond on graphic design. She won a grant from the Worcester Arts Council to help cover the costs of design and printing.

Posk said she found so much about Worcester interesting that she created the section with 50 questions and answers so that she would not have to leave anything out. Still, one individual in particular captured her imagination — an artist named Chester Reed.

Reed, a graduate of WPI with a degree in electrical engineering, devoted his life to observing, sketching and photographing birds in their natural habitats. In 1906, he compiled the first true field guide printed in color. "He wanted his field guide to be in color so other Americans could identify the birds more easily," Posk wrote. Reed died at the age of 36 and is buried in Hope Cemetery.

Posk admired Reed so much that she included a photo of him along with a layout of several of the pages from his highly regarded guide.

"I really gave him a spread," Posk said, laughing.


---
Worcester Magazine
January 2013

Author, legally blind, sees her way to book of Worcester's firsts

by Walter Bird Jr. / photo by Steven King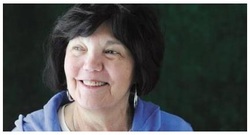 Jan 10, 2013
Did you know that the first Armenian Church in the country started in Worcester? That the first female known to have impersonated a man was a Worcester woman who wanted to join the Continental Army? Or that Pearl Street was the site of the first candlepin bowling establishment? How about this: There is a "JAWS" tie to Worcester. Author Peter Benchley's grandfather, Robert, was born right here in 1889.
Whether you consider yourself a Worcester historian or do not remember when Front Street wasn't blocked by a building, chances are you will fi nd something to marvel at in "Worcester Stacks Up: Firsts and Fun Facts" by author CJ Posk. A soft-cover, easy-to-read, illustrated walk through of some of the well-known history of Worcester – and many lesser known facts – Posk has crafted a written and visual tribute to the many contributions her beloved city has made to the country and the world. She will be signing copies of her just-released book and greeting people at the Worcester Public Library at 3 Salem Square on Tuesday, Jan. 15, from 5:30-6:30 p.m.
The journey toward completing "Worcester Stacks Up" is nothing short of inspiring for Posk, who was born Carolyn Joyce Poske before marriage changed her last name to Freedman. Now divorced, she legally changed her name to CJ Posk. "My relatives had it spelled Poske, but everyone called me 'Posky' and I didn't like it, so I changed it," she says.
Posk was diagnosed with pseudoxanthoma elasticum (PXE) in 1987 while living in Colorado. PXE is a rare, inherited condition that affects the body's connective tissue.
She was born and raised in Worcester, where she attended North High, and decided to move in 1986 because, "I always wanted to move west." The city she had known had changed dramatically.
"I remember coming downtown where all the theaters were. There were five at the time I think," Posk says. "I went to dance classes on Front Street. I used to get apple turnovers with vanilla sauce at Woolworth's. It was hustle and bustle. Everything was downtown before the Galleria came – that kind of changed things for the worse. They charged parking at this beautiful galleria. Worcester didn't own a parking garage and people started parking less downtown and stopped going to the mall."
When she moved to Colorado, Posk "fell into" acting. Over time her vision got worse and she lost sight in one eye. Diagnosed with PXE, she decided to find out just what she was dealing with and traveled to doctors in Florida, New York and London. Living in Denver, Posk says she helped start the National Association for Pseudoxanthoma in 1988. By mid-1990, her vision was getting worse. To compound matters, Posk suffered a car accident. At the time it didn't seem like a big deal, but when she returned to work, one of the shows she was recording called for her to drive by the scene of an accident. It was enough to convince her she could not continue acting. Posk ended up joining Volunteers of America. "I loved it," she says of the nonprofit group that helps nearly three million people every year.
In 1996, Posk returned to Worcester for her daughter's wedding and went back to Denver. Three years later, her daughter gave birth and her son was also moving back to Worcester. Posk decided it was time to return to where she grew up. After a while she became involved with the Worcester Women's History Project, serving on the steering committee. The work was satisfying, but there was something else itching at Posk. "I always wanted to write a book," she says. She received some motivation from Norma Feingold, an educator and historian who had written a book about Water Street and who told Posk she loved Worcester.
"I'd just moved back from Colorado and I said, 'How can anyone love Worcester?' But she did," says Posk. "She said I should write a book on Worcester. I started gathering information about Worcester. I wanted to do a children's book. As I was looking I found so many interesting things about Worcester, all the firsts in Worcester, and then I found all these firsts in the country that happened in Worcester."
A funny thing happened as she put together the book – Posk started falling in love with the city she had called home as a child. "I started to really appreciate Worcester and started to say, 'You know, this city is really a good city,'" says Posk, who also received help on the book from Elaine Pajka, who would read information to the author. "Before I moved away I didn't really think about Worcester. When you went away and thought of Worcester, you'd think of that rainy, gray city, the snow and ice."
The Worcester Arts Council awarded Posk $2,000 to work on the book.
With "Worcester Stacks Up," Posk hopes to spark a passion in readers that was reignited in her as she learned more about New England's second largest city. "You can't go back to what Worcester was," she says, "but you can bring back the history of what it was so it can enhance who we are."
You can pick up a copy of "Worcester Stacks Up" at the Worcester Art Museum, Worcester Historical Museum, Worcester Public Library bookstore, Annie's Book Stop and Tatnuck Bookseller. If you are into hockey and the Worcester Sharks, visit
www.worcesterstacksup.com
and buy a copy of the book. You will receive two tickets to a Worcester Sharks home game.
Have a news tip or comment? Contact Walter Bird Jr. at 508-749-3166, ext. 243, or email wbird@worcestermag.com.